dane machinery – screen printing machines
A print machine is more than just a print machine.
Screen printing has been around for many years, and the technique has been refined with age.  With the introduction of new high-tech mesh screens, frame magazines, coating machines, stencil machines and automatic squeegee grinders, Groenlund print machine solutions are unique in their function and efficiency.
Oftentimes, a print machine has a complicated design and construction, yet at the same time must be effective, durable, and easy to handle and install.  These qualities combined with being as efficient and using as few resources as possible, is what makes a groendlund print machine so special.
Groenlund Machine Works manufactures functional, practical, and economic print machines in high-tech Scandinavian design. Several of our printing machines have already become industrial classics.  We are proud to serve and supply customers and partners from all over the world.
Our "g" not only stands for Groenlund and our many years og experience, but also for our "good quality".
Therefore we are confident that you wil also be a satisfied Groenlund customer.
phone: +45 3234 6000
You can see an complete overview of our products here on our homepage or read more about the complete dane printing system here.
What is a print machine used for?
Print Machines are typically used for industrial scale printing operations. They are perfect for when you need to mass produce prints on paper, cardboard, textiles or other materials.
Our Screen printing process allows simple and consistent mass production of prints, specifically for items like T-shirts, sweatshirts and other clothing, tiles, boards and other uneven surfaces.
Print Machines work like this:
• Mesh is used to transfer ink onto a surface
• A blocking stencil is used to shield the surface where ink is not allowed
• A squeegee glides across the screen surface and fills the open mesh with ink
• A reverse stroke then causes the screen to touch the surface along a line of contact
• The wet ink is transferred and covers/colors the surface
• The screen springs back after the blade has passed
• One color is printed at a time, so several screens can be used to produce a multicolored image or design
Print Machine – for all materials and surfaces
Our Print machines have a wide range of uses and serve every function imaginable to meet your needs!
Whether you are looking to optimize your industrial printing process, or looking to upgrade one of your machines, Dane Machinery has a model that's perfect for you!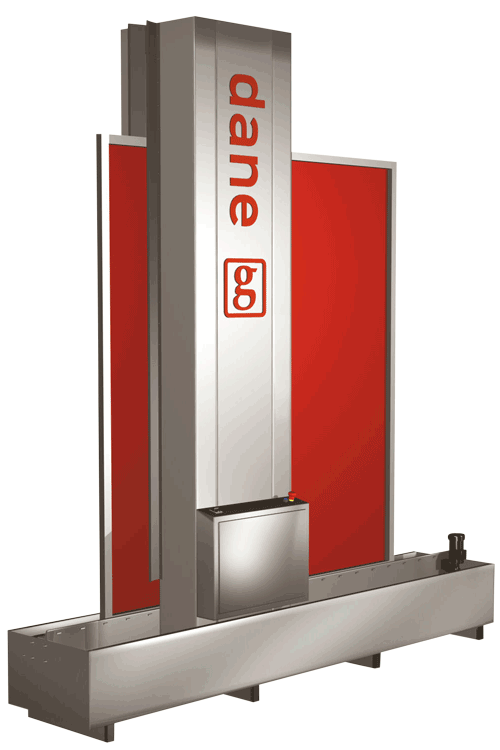 Quality symbols
Dane machines fulfill a variety of needs, but several quality details are recurring features of each machine. Therefore, we have created these quality symbols to be shown for each machine, if it meets our high standards. The symbols are our guarantee to you, our customer.

Fully automatic

Environmentally friendly

Machine Components from approved international suppliers

Proven construction

CE marked

Minimum space required Fast and easy installation

Good, safe workplace

All materials are fully resistant to chemicals

European Committee for Standardization
the dane system
Dane Machinery supplies a full processing system for your stencil, coating, splitting and printing production line.
We combine a number of our reliable and thoroughly tested machines into one line and this has proven a real success.